Street/residential luminaire Model 307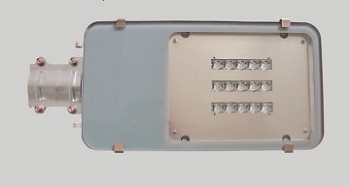 Model 307 is a reliable and economical low-wattage LED-based
lighting fixture that can illuminate on a limited budget streets, roads, sidewalks, playgrounds and etc. Its
simple and yet attractive design adds a touch of style to the residential areas where it is installed. It also provides a
choice of high system efficacy levels to meet different energy saving
targets. Because of that and the long life of the light emiting diodes that leads to no actual maintanance, compared to the alternatives of the LED lightening it has a short and comfortable payback time. The model can be used with solar systems because of it`s great efficacy, low-wattage and high energy conversion efficiency.
Model 307 comes in two power configurations - 22 W and 30 W . In both power configurations the model has flux of 3000Lm. The color temperature is a clients choice. The flux and input power can be furthermore customised. The lenses can also be customised to emit light in a rectangular shape for street lightening - 30 x 9 m (when installed at 6m height) or to emit light in a circular shape for any other application. The model is using contemporary LEDs - XP-G from the world famous brand Cree. Model 307 is equiped with build-in termal protection that decreases the output light with PWM when the LED protection temperature is reached. The luminaire also has high environment protections - IP65 aluminium body with tempered glass. The LED lifespan of the luminaire is 100 000 hours.
Benefits:
Delivers reliable performance and significant energy savings
Provides a choice of high system efficacy levels to meet different energy saving targets
Simple, economical, sustainable and reliable LED luminaire
Ensures visual comfort for all users
Positive impact on environment - directed light (no light pollution), UV- and IR- irradiation
Low maintanance costs
Technical Specification:
| | |
| --- | --- |
| General Characteristics | |
| LED chip manufacturer | Cree |
| Housing | Aluminium / powder coated steel |
| Life of the LEDs to 70% lumen maintenance | 70 000 - 100 000hr |
| Operating temperature | -25 - +40 °C |
| Ingress protection | IP 65 |
| Electrical Characteristics | |
| Wattage | 22 W / 30 W |
| Type of power supply | 24V DC Battery , 12V available / 230 Vac with PFC and eff. 90% |
| Light characteristics | |
| Color rendering index | CRI ≥ 70 |
| Luminous flux | 3000 lm |
| Product Dimensions | |
| Width/length/height | 494x210x54 mm |
| Weight | 3,6 kg |