Security station Guard4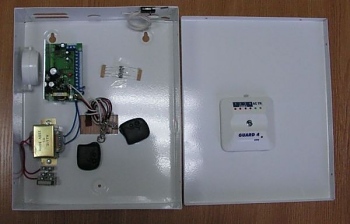 Dual power supply
220V electrical networks;
12V battery with automatic charge
LED indicators:
Mode of operation;
State of the zones;
Availability of mains power;
Alarm memory of the last inclusion;
Outputs:
SIR - management of foreign cheeses;
PGM1 - opening / closing the garage or front door with 5 sec. Pulse to reset or power of the fire alarm;
PGM2 - Tamper patrol and control;
PGM3 - poet in custody;
7 programmable functions:
Ring "in zone 1
"Silent Alarm" in tamler;
Management of the neck or fire alarm;
Costs under guard by "service" Doo;
1 or 2 minutes of action cheeses;
Bypass area, made more than 3 alarm over the inclusion in custody;
"Silent Alarm" when pressed panic button;
Other:
Connect up to 4 security sensors (12V, normally closed contacts for alarm and sabotage) on area;
The ability to manage the fire alarm 12V zone 4;
Given sound-light indication;
The ability to add a "service" remote control(up to 4 pcs.);
Elimination of incidental inclusions in custody;
Memory in 16 events;
The ability for partial inclusion in custody;
Four double zones;
Two buttons with Remote Control Transmitters (remote controls- up to 60 pcs.)
Price: 35 € / pcs. @ 100pcs.
All prices are excluding VAT.