Residential/road luminaire LCV200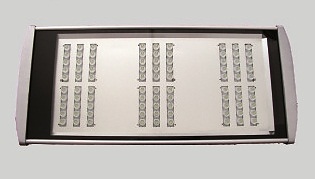 The LCV200 delivers high-quality uniform illumination while maximizing lumen output. Far more energy efficient than halogen, incandescent and fluorescent lamps, LCV200 is also more reliable and can save up to 85% in energy, replacement and maintenance costs annually. When you want to decrease your expenses or you want to save space reducing the number of lightning poles you have to install lightning fixtures with higher luminous flux. LCV200 is the right choice for you - huge luminous flux with great efficacy leading to high energy and maintanance cost savings.
According to your needs LCV200 comes with custom lenses - for residential area (e.g. 55 degree round), for area flood lighting (15 degree narrow lens) or according to the customers area and minimum amount of light needed.
Benefits
A great amount of light on a single pole
No annoying noises, vibrations and flickering
Long-life LEDs (with an average rated lifetime of 70,000 - 100 000 hours) reduce the maintenance and product replacement costs that are associated with fluorescent systems
Custom iluminated area
Significant sustainability opportunity due to lower energy consumption, reduced waste and elimination of hazardous substances such as mercury and lead
Overall, the usage of LEDs helps to reduce the internal heating in the premisses
100% efficacy - directed light which guarantees that all the luminocity goes where is needed
Push-in connector: connection without opening the luminaire

Technical Specification:
General Characteristics
LED chip manufacturer
Cree XP-G
Housing
Aluminium / powder coated steel
Life of the LEDs to 70% lumen maintenance
70 000 - 100 000hr
Operating temperature
-25 - +50°C
Ingress protection
Electrical Characteristics
Wattage
180 W
Type of power supply
110/230 Vac with PFC and eff. 90%
Light characteristics
Color rendering index
CRI ≥ 70
Luminous flux
22000 lm
Product Dimensions
Width/length/height
710x320x100 mm
Weight
13 kg