Outdoor luminaire 212A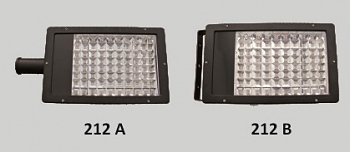 212A LED is a classic, extremely efficient asymmetric floodlight that can be used to illuminate large areas. Designed around the latest LED technology, it offers significant energy and maintenance savings compared with conventional HID systems. Thanks to its highly efficient reflector, it can be used for area lighting applications that have traditionally required HID-equivalent power levels. LED upgrades can be easily incorporated, making this a truly future-proof solution.With its compact shape and aesthetically pleasing design. With it`s high efficacy of 120Lm/W and high luminous flux - 6000Lm 212A is a great replacement of any old technology.
The 212A luminaire has a build in power supply with power factor correction and wide input voltage range - 110/220VAC standarts and internal termal protection with a 50% PWM decrement at 65 degree Celsius to protect the LEDs. The housing is with high environment protection - IP65 with tempered glass and is suitable for pole mounting(212B), wall mounting or floodlighting.
Benefits:
Delivers reliable performance and significant energy savings
Provides a choice of high system efficacy levels to meet different energy saving targets
Simple, economical, sustainable and reliable LED luminaire
Ensures visual comfort for all users
Positive impact on environment - directed light (no light pollution), UV- and IR- irradiation
Low maintanance costs

Technical Specification:
| | |
| --- | --- |
| General Characteristics | |
| LED chip manufacturer | Osram |
| Housing | Aluminium / powder coated steel |
| Life of the LEDs to 70% lumen ;maintenance | &70 000 - 100 000hr |
| Operating temperature | -25 - +40 °C |
| Ingress protection | IP 65 |
| Electrical Characteristics | |
| Wattage | 80W |
| Type of power supply | 110/220 V AC/PFC |
| Light characteristics | |
| Color rendering index | CRI ≥ 70 |
| Luminous flux | 6000 lm |
| Product Dimensions | |
| Width/length/height | 525x266x100 mm |
| Weight | 6,7 kg |