ELLY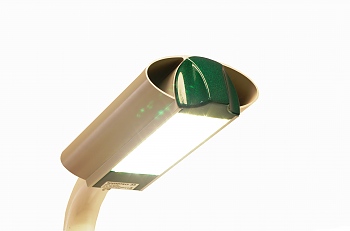 ELLY is highly Efficient LED Luminaire that will last for Years.
Designed as a modular fixture it can be fully customized.
The family provides solutions for street, residential, high bay, solar and tunnel lightning with high output (red) - up to 12 000Lm, high efficiency (light grey) - up to 145 Lm/W, green energy (green) - dimmable, powered by battery from 10 to 30 VDC and standard (black). All the family members come in 4 sizes. The standard CRI is 70 but can reach to 95 on request. With color temperature from 2700K to 6500K.
The material save environment friendly design provides up to 4000 Lm out of 30W from only 1.8 kg.
Great light distribution thanks to latest generation Ledil optics pursuant with EU street lightning standards EN 13201, .
The innovative model design without any ribs or barrier obstacles in the way of the rain water provides self cleaning.
It is also highly cost effective build with world leading producers of LED - CREE, OSRAM; driver - Tridonic, Philips, Osram; lens - Ledil,
sealing adhesives - Dau Corning; housing - high-grade extruded aluminum.
Benefits:
Delivers reliable performance and significant energy savings
Provides a choice of high system efficacy levels to meet different energy saving targets
Excellent thermal management thanks to patent pending convection tunnels
High efficiency - up to 145 Lm/W from the fixture
Positive impact on environment - directed light (no light pollution), no UV- and IR- irradiation
Low maintenance costs
Technical Specification:
Model
ELLY
ELLY 2
ELLY 3
ELLY G
ELLY B
ELLY R
ELLY LG
ELLY B
ELLY R
ELLY LG
ELLY B
ELLY R
ELLY LG
ELLY G10
ELLY G20
ELLY G30
Input power
28 W
33 W
22 W
55 W
72 W
45 W
82 W
100 W
70 W
10 W
20 W
30 W
Useful quantity of light
3 300 Lm
3 700 Lm
3 000 Lm
6 750 Lm
8 150 Lm
6 000 Lm
10 100 Lm
11 300 Lm
9 000 Lm
1 350 Lm
2 700 Lm
4 000 Lm
Dimensions mm
275x160x75
515x160x75
755x160x75
250x160x75
Weight kg
2 kg
3.9 kg
5.8 kg
1.8 kg
Power supply
230 VAC / PFC > 90
10-30 VDC PWM dimmable
Installation height
6 meters
LEDs used
CREE / OSRAM
Mounting method
Pole 60mm / surface or pendant
Lenses
LEDiL covering EN 13201 standart
Thermal protection
Automatic build in
Working temperature
-25 to +40ºC / -40 to +50ºC optional
Environment protection
Ingress Protection IP 65
LED LM80
100.000 hours
Application
street, residential, solar / high bay, tunnel lightning